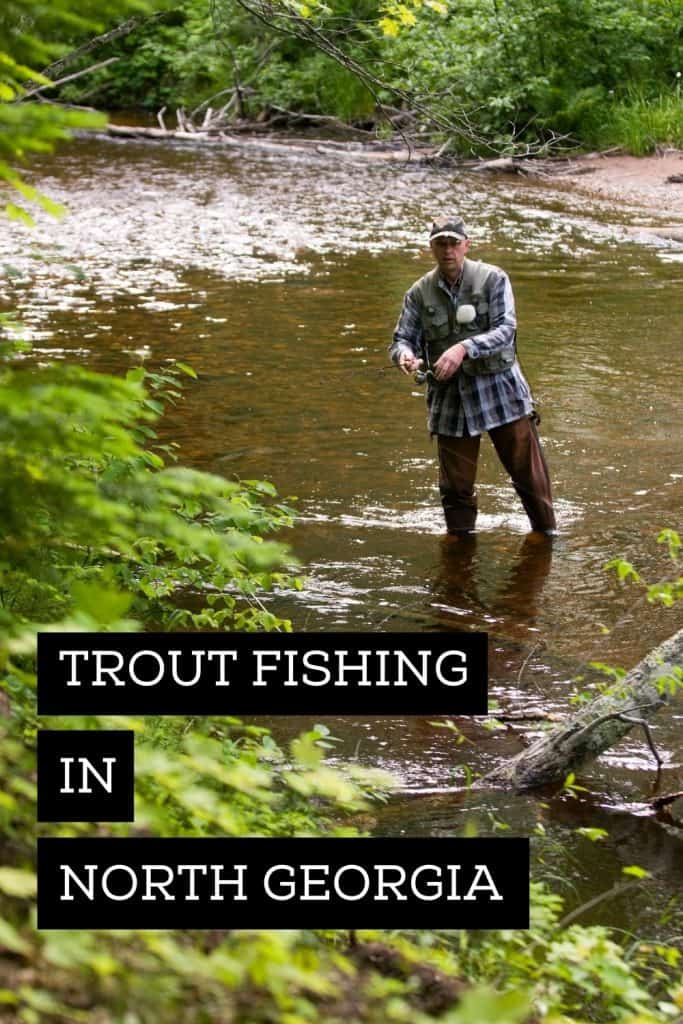 Do you love fishing? Are you looking for a new hobby? Then why not try trout fishing in north Georgia? It's a great way to spend a day outdoors with family and friends while enjoying nature.
There are many places where you can fish for trout in North Georgia. In fact, there are over 100 lakes and streams where you can catch these beautiful fish. But how do you find them? Where should you go? What equipment will you need?
In this article, we'll cover all of these questions and more as we explore the best places to catch trout in North Georgia.
When is trout season in Georgia?
Trout season runs year-round in the state of Georgia. Trout fishing is allowed 24 hrs a day on all designated trout streams and the impoundments where trout streams exist.
There are some specific regulations on certain bodies of water and I would suggest checking out the detailed regulations on the Georgia Department of Natural Resources GA DNR website dedicated to trout fishing.
In order to fish for trout in Georgia, you will need to poses a regular freshwater fishing license as well as a specific trout fishing license.
When can you trout fish in North Georgia?
While trout fishing is available year round in many areas of North Georgia. The best times to catch trout vary by region.
The trout fishery depends largely on stocking. More than one million ten-inch trout are stocked into Georgia waterways each year to support fishing and its economic impacts.
Brown, brook, and rainbow trout are stocked between the months of March through October.
Stocking numbers on individual streams and creeks are determined by the fishing pressure of the stream or creek. Ones more accessible by the public tend to be stocked more often.
Areas that are stocked frequently would be areas like Boggs Creek, Chattahoochee River, the tailwaters of Blue Ridge and Lanier, and Smith Creek.
If I were looking to fish for brown, brook, or rainbows in north Georgia I would shoot for early March or later in the fall as water temps cool again after the hot Georgia summer.
What months are best for trout fishing
Trout fishing is great year round but the best times vary depending on which part of the state you live in.
Since trout require clean and cold water to survive the early months of spring and later in the fall and winter would be great times to fish.
That being said since the stocking of trout occurs regularly through most of the year in the Georiga trout streams, really month could be a good month to catch trout in north Georgia. The GA DNR posts stocking updates weekly so it might be a good idea to check their trout specific page weekly to find when and where trout were stocked in local streams and creeks.
Can you trout fish in the winter Georgia
Yes, it's legal to fish for trout in the state of Georgia from December through March. The best time to fish for trout in North Georgia is during the spring and fall seasons.
Since Georgia's 4000 miles of trout streams are terribly productive on their own due to poor calcium levels in North Georgia, the streams are stocked, and that is mostly done between March and October.
Where is the best trout fishing in Georgia
There are many great places to fish for trout in North Georgia, and there are maps and documents provided by the GA DNR that help in the location of good trout fishing waters.
There are several areas that tend to produce greater catches either due to increased stocking or lower fishing pressure.
Below are a few of the great places in North Georgia to wet your hook in pursuit of trout
Rock Creek
Rock Creek is located mostly in Fannin County and is regularly stocked by the GA DNR. This creek is easily accessible and is a great area to take children and anglers new to trout fishing.
Rock Creek is open year-round for trout fishing.
The Toccoa River
The Toccoa River is generally mentioned as the best trout river in the state of Georgia. The area of the river between Union County and the Ocoee River
Fishing seems to be best in the upper portions of the river since they are stocked regularly, but the area beneath Lake Blue Ridge is also a great location to fish as well.
The whole river is open to trout fishing year-round, but the upper area of the river is listed as a delayed harvest area which opens for fishing around May 15th of each year.
The Chattahoochee River
The Chattahoochee River flows from the mountains of North Georgia all the way through the bustling city of Atlanta. It offers pretty good trout fishing along its entire route.
With the river having such a long route there are several different types of trout to target and different regulations you will need to follow if you choose to try your hand fishing on the "Hooch"
The area around Helen is a prototypical trout fishing area with a freestone stream. This area gets a decent amount of pressure and you may have to dodge the hoards of tubers during the warmer months who enjoy the cool waters while visiting Helen.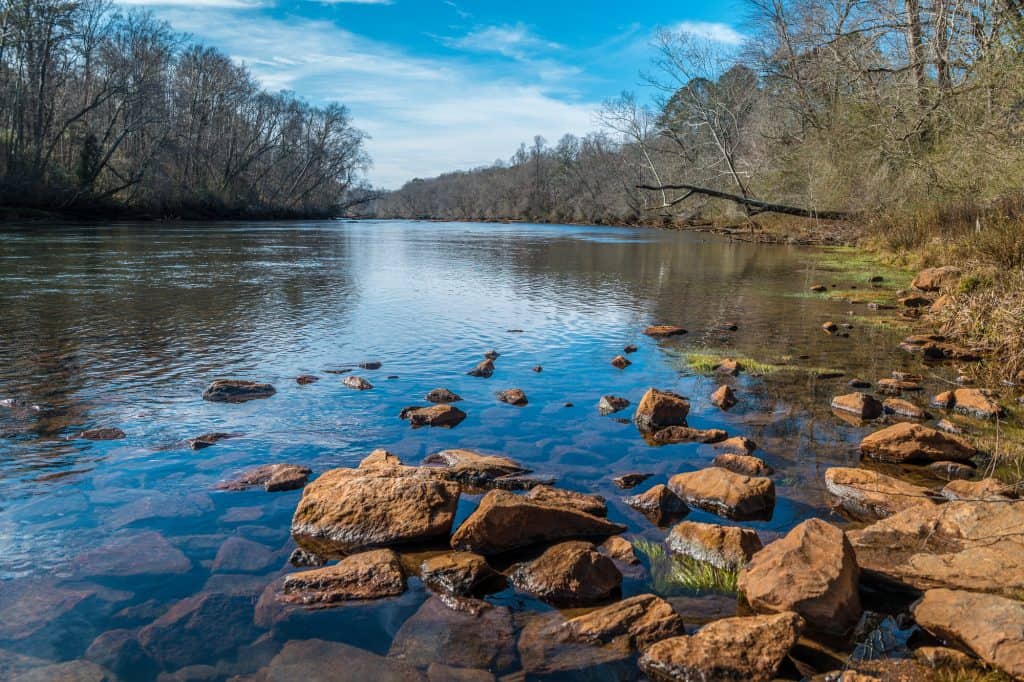 However, you will find some actual wild trout in this area to enjoy some catch and release fishing.
The river flows through Lake Lanier and then exits out the Buford Dam and becomes a great tailwater trout fishing area.
There is an abundance of fishing access and fish in this area.
Brown trout actually naturally reproduce in the tailwaters so stocking of brown trout has been discontinued in the area for now.
There is a Delayed Harvest area of the river which is between Highway 20 and Medlock Bridge Road, where only artificial lures are allowed and is a good spot for wading.
These tailwater areas can be hazardous since the water is regularly dumped out of Buford Dam for power generation which can alter the river flow and depth quickly and dramatically.
The Chattooga River
The Chattooga River is a freestone river that flows in the northeast corner of Georgia on the border of South Carolina.
The lower end of the river is heavily stocked and has a good population of wild trout as well, but is also a Delayed Harvest area as well.
Above the DH area is the Ellicott National Wilderness Area which is mostly full of wild Brown trout.
Besides the great fishing, the area is known as one of the "prettiest" canyons in north Georgia
Noontootla Creek
Noontootla Creek is located in Fannin County and originates in the Blue Ridge WMA.
This creek is one of the more regulated areas to catch wild trout where there are strict limitations on what type of lures and size of fish are kept.
Only artificial lures and only one fish over 16 inches can be kept by a single angler. The size and limit restrictions pretty much make this a catch and release fishery.
Good size rainbows and brown trout will test your angling skills. The area is known for the vibrant color and patterns of wild trout.
Smith Creek
Smith Creek is a smaller stream where much of the public portions are located inside of the Unicoi State Park. It is the state's only small stream Delayed Harvest fishing.
During the warm summer months, the fishing can be tough due to warm low water, but usually, the fishing is good during the fall through spring.
The stream above Lake Unicoi is stocked heavily and is generally easily accessible.
Cooper Creek
This tributary of the Toccoa River is heavily stocked, and a great area to introduce the family to trout fishing.
The stream has a pretty good population of wild browns and rainbows, as well as the regularly stocked trout.
The creek is readily accessible via national forest land, and it is pretty easy to wade where there are fewer crowds to disturb your fishing.
What type of fishing gear will I need to trout fish in north Georgia?
Now that you have heard of all the great trout fishing that is available in North Georgia. You probably want to get out there and try your luck in one of the many great streams and rivers.
The great thing is that the equipment you use for some other types of freshwater fishing can be used for trout fishing.
Flying Fishing
Flying fishing and trout fishing seem to go hand and hand.
I am just going to cover the basics here but you are going to want to use a 4wt – 6wt, 8-10 foot fly rod with a matching reel. The reel should have a 20lb backing, WF(weight forward line), and a 2lb -10lb tippet.
A good set of waders and wading boots, and some dry and wet flies.
Fly fishing for trout is a gear-intensive hobby, and too much to mention in this post. You will need waders, boots, rods, reels, tippets, leaders, and an assortment of dry and wet flies.
I would suggest connecting with your local fly shop or specialty outdoor retailer to gear up.
Traditional Spinning Gear
So while fly fishing is synonymous with trout fishing for most folks. There are quite a few anglers who use traditional spinning gear to catch trout.
With the traditional spinning gear, you are going to want to use an ultralight or light spinning rod in the 5ft – 6ft range with a matching reel.
The reel should be spooled with a very light line in the 4lb to 6lb range. Typical monofilament or fluorocarbon works well.
You will want an assortment of Berkley Power to bait, inline spinners, and minnow imitations crankbaits.
Again, there is so much tackle available it is almost mind-boggling.
I would suggest reaching out to your local sporting goods store, Bass Pro Shops, or Cabelas to gear up.
Summing it Up
Trout fishing is a very popular outdoor sport in North Georgia. It is a great way to spend quality time outdoors while enjoying nature. It is also a good way to relax after a long day at work or school.
So get out there and try your luck at some of the great trout fishing found in North Georgia and the rest of the south.